December 03, 2020
President Piñera launches the el Conquistador electroterminal, the largest of its kind in the country and that will supply Red buses in the Metropolitan Region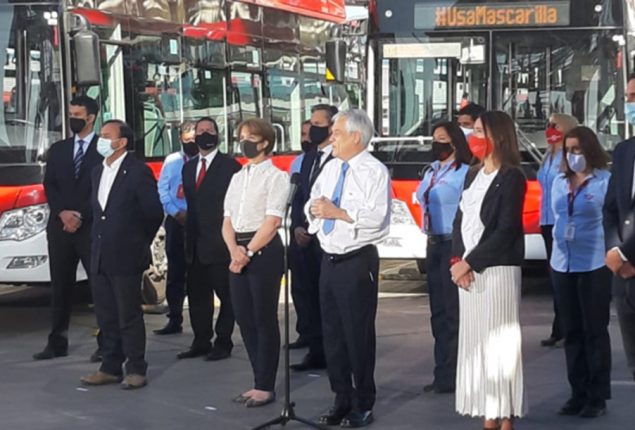 The enclosure has a self-generation system powered by photovoltaic solar panels, which allows the simultaneous loading of 110 vehicles. The implementation of the terminal, together with the fleet of 215 electric buses, involved an investment of $80 million and generated 600 jobs, 200 of them permanent.
The President of the Republic, Sebastián Piñera, together with the Minister of Transport and Telecommunications, Gloria Hutt, the holders of Environment and Energy, Carolina Schmidt and Juan Carlos Jobet, respectively; and representatives of the companies COPEC, Andes Motor (Foton) and STP, gave the departure to the electroterminal El Conquistador, in the commune of Maipú, the largest of its kind in the country and which delivers supply to the Red buses of the Metropolitan Region.
The representative, accompanied by the authorities and project managers, carried out the first electrical charge of one of the terminal buses, an enclosure that is fully supplied with clean energy and has a self-generation system powered by photovoltaic solar panels. In a space of 15 thousand square meters, it has 55 chargers with capacity to simultaneously charge 110 electric buses.
"The implementation of this electroterminal is a new step in the modernization of the public transport system and is the result of public-private collaboration. The electric buses supplied in this enclosure are used by 600 thousand people from 17 areas, who will benefit directly from their operation"Minister Gloria Hutt stressed. In turn, as part of the government-driven economic recovery plan, Hutt highlighted that "the construction of this terminal has been a source of employment for 400 people, to which another 200 are permanently added."
"

With the entry into operation of the electroterminal El Conquistador, 10 electrotherminals in the Metropolitan Region already add power to the 776 electric buses currently circulating in Santiago.

"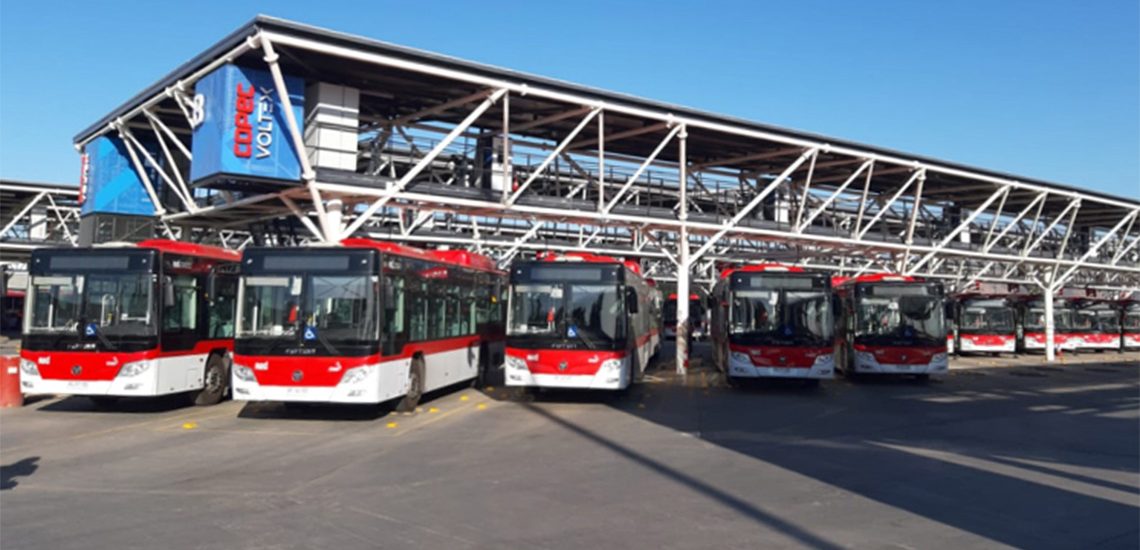 The new enclosure, which in conjunction with the fleet of 215 electric buses involved an investment of $80 million, has an innovative top loading system (with its devices located on the second floor and a retractable connector that descends to the first floor where the bus is parked), which allows to have clear the first level, which increases safety and facilitates both operation and maintenance in the enclosure.
For his part, the director of Metropolitan Public Transport, Fernando Saka emphasized that the launch of the Terminal El Conquistador de Maipú completes the first phase of the electromobility of public transport in Santiago. "This work completes the operation of 776 electric buses, the first phase of electromobility for Santiago, which will be complemented by the fleet supply tenders that are underway to consolidate the renewal of public transport by a more sustainable system and zero emissions,"he said.