Red.cl has been built in accordance with accessibility standards aimed at facilitating access to all people regardless of their physical condition or environment. This includes aspects such as a clear and orderly content structure, a color contrast control and a keyboard shortcut system to access the main sections and utilities of the web.
To do this, Red.cl has been developed according to the following standards:
always committed to following, as far as possible, accessibility criteria that involve compliance with the Web Content Accessibility Guidelines 1.0, at its double-A level, established by the World Wide Web Consortium (W3C) in its Web Accessibility Initiative (WAI).
However, some essential functionalities on the website, which combine HTML, CSS and JS technologies, sometimes externally loaded, non-Red.cl, may result in timely exceptions in compliance with the AA Level of accessibility.
Accessibility tools
Also, in the left margin of the screen and always present in navigation, we will find a shortcut (blue button) to various accessibility options in order to facilitate the user experience for people with disabilities. Among the tools available, we can enable reading of the portal aloud, zoom general on the screen, convert all fonts to sans-serif to ensure readability, display image descriptions in a floating window, increase the cursor size, or change the background color to activate maximum contrast.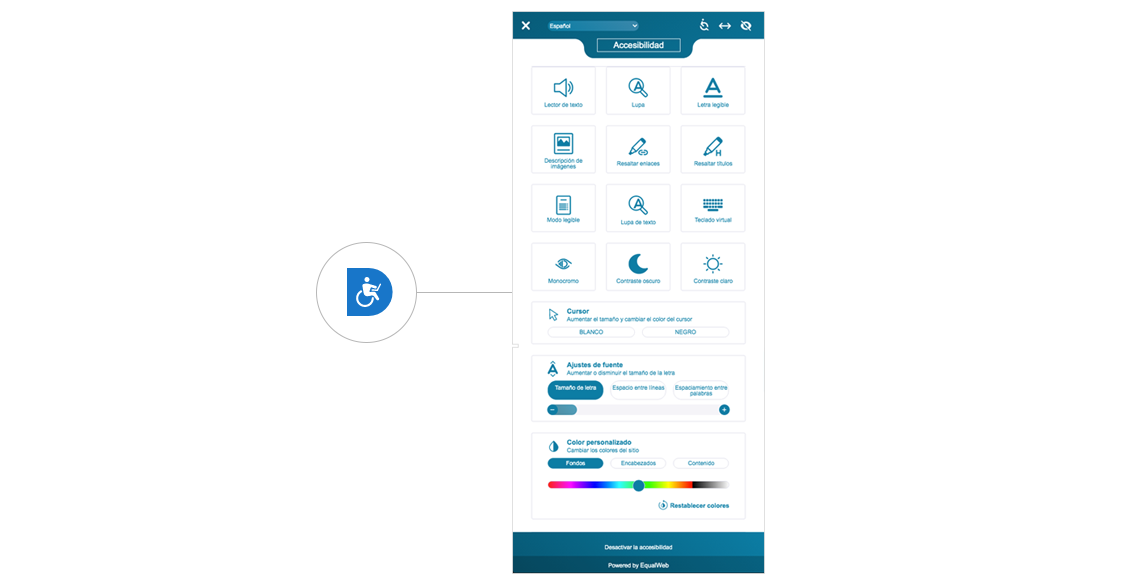 Keyboard shortcuts
To facilitate portal navigation, the following keyboard shortcuts (acesskey) have been set:
Key 0: Home
Key 1: Plan your trip
Key 2: Service status
Key 3: Maps and schedules
Key 4: Rates and recharges
Key 5: Network communicates
Key 6: Help and contact
Key 7: About Network
Key 8: Terms of Use and Privacy
Key 9: Web Accessibility
Key R: Claims and suggestions
P key: Frequently asked questions
To activate keyboard shortcuts in the latest versions of the most used browsers, we must use the following key combinations:
Firefox (Windows): Alt + Shift + Shortcut key
Chrome (Windows): Alt + Shortcut key
Internet Explorer (Windows): Alt + Shortcut key
Firefox (Mac): Ctrl + Shortcut key
Chrome (Mac): Ctrl + Alt + Shortcut key
Safari (Mac): Ctrl + Alt + Shortcut key
If you have any questions, suggestions or issues regarding the accessibility of this website, please contact us via email mail@red.cl.