March 28, 2019
President Piñera announces that 80% of buses will be new and RED standard by 2022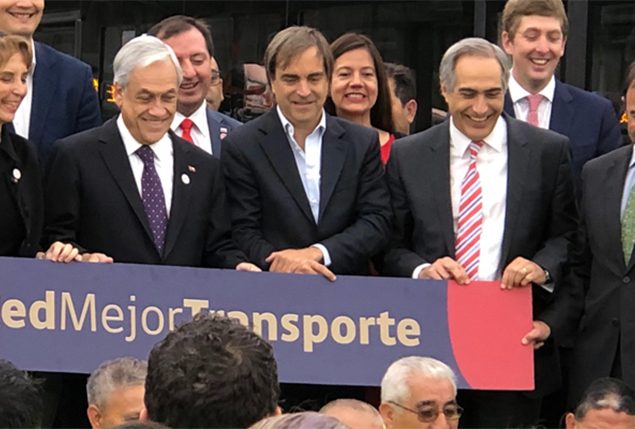 In Rinconada de Maipú, the Mandatario inaugurated a new electroterminal and announced the incorporation of 100 new RED electric buses that will begin their operation on Monday, April 1, benefiting users of Maipú, Pudahuel, Central Station, Santiago, Puente Alto, La Florida, Macul, San Joaquín, Auñoa and Providencia.
The President of the Republic, Sebastián Piñera, announced that the process of transforming capital public transport will allow, by 2022, 80% of new buses, equipped with environmentally friendly technologies and the RED quality standard.
The Representative, together with the Minister of Transport and Telecommunications, Gloria Hutt, inaugurated a new electroterminal, located in Rinconada de Maipú, and detailed that, in 2022, 5,300 of the 6,600 buses that currently exist will be new, with air conditioning, wifi, more comfortable and high standard seats.
In turn, it announced the entry into circulation of 100 new electric buses next Monday, April 1, which will benefit the neighbors of the communes of Maipú, Pudahuel, Central Station, Santiago, Puente Alto, La Florida, Macul, San Joaquín, Auñoa and Providencia. With its incorporation, the electric fleet will double, making Santiago the second city with the most buses of its kind after China.
"Since the debut of the first high standard buses, 10 million TRIPS have already been completed on RED buses and we have seen with satisfaction how users enjoy the new RED buses. This sets us at the challenge of continuing to advance the transformation of the system, so that people have more comfortable and accurate journeys in their transfer times"Minister Hutt stressed.
"

The new 100 electric buses that will take to the streets next Monday belong to routes I09, I09 (Vule) and 213e (STP), and will cover routes from Maipú to Alameda, and from Puente Alto to Plaza Italia, respectively

"
DTPM's surrogate director, Loreto Porras, stressed that "the changes being implemented with the new RED standard have as a central focus users, who are seeing in a concrete way the transformations that are being pushed".
The vehicles that will come into operation were manufactured in China by Yutong company, and have accessories such as internet connection, USB ports, air conditioning, as well as guaranteeing universal accessibility to people with reduced mobility, along with more comfortable seats and technology for passenger safety, as they have internal monitoring cameras.