May 20, 2019
Minister Gloria Hutt values increase in female drivers in the public transport system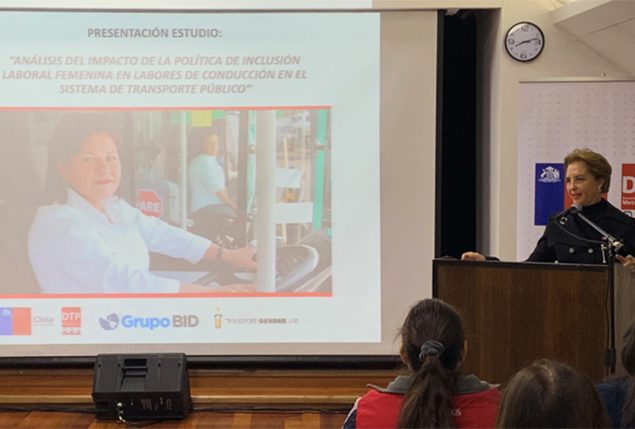 The Minister of Transport and Telecommunications, Gloria Hutt, presented the results of the study Women's Labor Inclusion in Driving the Public Transport System of Santiago, which revealed important benefits of the incorporation of women into an area historically characterized by its male workforce.
The report, developed within the framework of the agreement signed between the MTT and the Transport Gender Lab of the Inter-American Development Bank (IDB), aims to recognize the effects of the gradual incorporation of women into the field of driving in metropolitan public transport and to assess the impact of the policy of inclusion of women that has been developing.
"

As of December 2018, the number of drivers is 950

"
In this regard, Minister Hutt noted that in 2014, santiago's Public Transport System had 1.5% of women in driving and as of December 2018 the number has increased to 5.4%, accounting for 950 female conductors.
In the same line, the TTT holder explained that the National Plan for Equality between Men and Women 2018-2030 seeks to enhance cross-sectoral work to install gender equity in institutional work and the implementation of public policies that promote women's labour inclusion in mobility, accessibility, security and efficiency of transport systems.
"The main objective of this study is to analyze the impact that the incorporation of women into the field of driving on public transport has had and the results are very encouraging. The increased female participation has been highly valued by all actors and translates into a lower accident rate than men, improvements in the working climate and communication, decreased aggressiveness, greater and better hygiene of machines and better treatment with users. Operators recognize their good performance, learning willingness and strong commitment to work"Minister Hutt added.
"

The increase in female labour inclusion is based on the measures the State has taken to stimulate a greater presence of trained female conductors

"
This is especially done through financing grants for conducting driving courses through the Sence and operating companies.
Meanwhile, the drivers have agreed with their working conditions, competitive wages, training, good interpersonal relationships with their peers and effective responses to sexual harassment events.