January 13, 2021
We are remodeling Santa Rosa and Mac Iver to prioritize bus and pedestrian traffic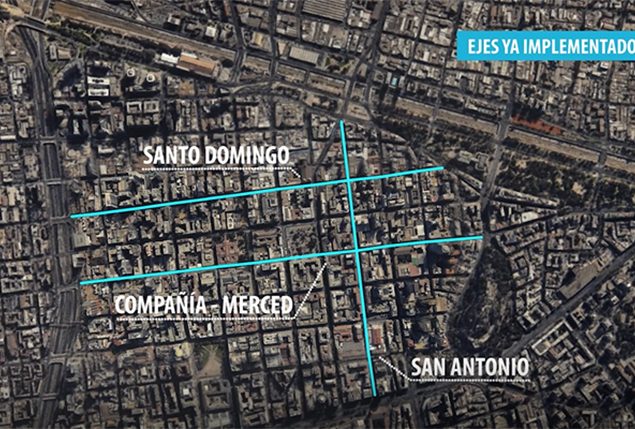 Work is underway on the first stage of the project that involves the closure of vehicle tracks to dedicate them to public transport and a new Road Education Square. Trade, offices and resident access will remain operational for as long as work is run.
A new stage of the Plan Centro has already started with the works that are being carried out on the Santa Rosa and Mac Iver axes to prioritize the circulation of public transport buses and pedestrians, an initiative that also includes a new Plaza de la Educación Vial, which will be located on the west road of Av. Santa Rosa.
The intervention will take place between Alonso de Ovalle and Cardenal Caro (1.3 km) and is part of the consolidation of a network of exclusive roads for buses in the historic center of Santiago. In this way the Santa Rosa – Mac Iver axis will become the fourth exclusive road of the commune, joining Compañía – Merced, San Antonio and Santo Domingo. The Teatinos, Ammunátegui and General Mackenna axes will also be involved in the future.
"

Exclusive roads for public transport aim to improve travel times for people mobilizing by public transport, while also reducing crowds on buses and bus stops.

"
The intervention in this important axis of Santiago also contemplates the execution of the Plaza de la Educación Vial, which will be located on the west road of Santa Rosa. This square will have furniture and demarcation that promotes the promotion of concepts of safety, mobility and traffic rules in the travel of people.
The project also integrates important changes that seek to optimize the mobility of people, such as the expansion of roads, improvements in universal accessibility, improvements of shelters for bus stops and paid areas, bikers and woodland, increased lighting and the complete re-vehicle of the vehicle road.
It should be noted that public transport will continue to operate on the axis as the project develops and possible changes in the stop points will be informed in advance of the more than 200 thousand people who use this section during the week (18 services: 385, 206, 207, 226, 230, 230e, 207e, 214, 404, 203, 203e, 208, 402, B27, I09, I09e, 209 and 424).